The Multiheight Probe station with an automatic Z motion (AFPP) for use in making four point probe measurements.
---
Automatic Multiheight Probe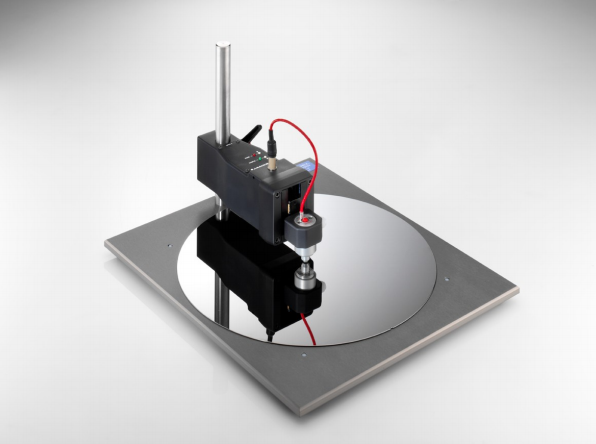 ---
The AFPP can be used for measuring a wide variety of samples from small sized thin layers and 300mm wafers up to ingots 250mm high (thicker samples can be accommodated on request). The AFPP can be used stand alone with a supplied power adapter, or can be powered and operated by the Jandel RM3000 using a single lead connection between the two tools.
| | |
| --- | --- |
| Max. sample size | Samples up to 300mm diameter will fit on the measurement table |
| Max. sample thickness | Samples up to 250mm high can be measured (higher on request) |
| Auto-stop | Sample contact detected by force sensor |
| Manual Control | Home and Sample contact buttons situated on tool |
| Remote control | Jandel RM3000 can supply power and control sample contact |
System Configuration
Component parts:
A. Measurement Base – 1pc
B. AFPP assembly – 1pc
C. Multiheight
Column – 1pc D.
Four point probe
head – 1pc E. Power
cable – 1pc
System Footprint
A. Multiheight Probe Base: 320mm W x 370mm L x 8mm H
B. AFPP assembly: 64mm W x 215mm L x 67mm H
C. Multiheight Column: 19mm diameter, 200mm L (up to 1m on request)
Type

Tip R

Force

Spacing

A

40u

100g

1mm

B

100u

100g

1mm

C

200u

100g

1mm

D

500u

70g

1mm

E

40u

200g

1.591mm

F

40u

100g

0.635mm

G

100u

100g

0.635mm

H

200u

100g

0.635mm
Type A-D and F-H are user adjustable in the range 60g-150g and supplied at