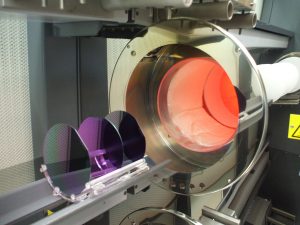 Manufacture of customized silicon wafers
From 1'' to 6'', any size from 10mm to 150mm
Thickness up to 5 mm
Any orientation
Any positions and quantities for the flats
Resistivity :
Cz Intrinsinc > 200 Ohms.cm (Beyond this value, no possibility to measure. Fz are used)
Highly doped :
P Bore: 0,7 mOhm.cm min.
N Bore: 1 mOhm.cm min.
Customers
MEMS, nano wired, nanotube, graphene, exotic material growth, biochemistry
Core Competences
MEMS, nano wired, nanotube, graphene, exotic material growth, biochemistry
Low and medium volumes totally customized
Orientation accuracy (Up to 0.05°) on the side and the main flat (frank flat accuracy up to 0.05°)
TTV Double side: 4'' > 400µm => TTV < 2µm
6'' > 500 µm => TTV < 3 µm
TTV measurement: possible to deliver the value for each unit if the wafer is identified by laser marking