Ampco Centrifugal Pumps
The Ampco AC/AC+ Series of centrifugal pumps continue to lead the category in reliability and durability.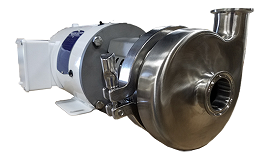 The AC/AC+ features a simplistic and sanitary design. Made from 316 stainless steel the AC/AC+ is corrosion resistant and is 3A Certified for sanitary use. In addition to performance and reliability, the AC/AC+ Series is designed to be completely interchangeable with other manufacturers' pumps. Hydraulic characteristics and external dimensions are maintained for ease of replacement.
The AC+ takes the best of the AC Series pump, and adds engineering innovation to the shaft design for better stability and increased performance. The simple yet ingenious design modifications of the threaded impeller nut and clamped stub shaft takes the traditional C Series and increases its reliability and clean-ability. The advanced shaft design of the AC+ reduces vibration, increases seal life and eliminates the less sanitary impeller pin design of the traditional C Series. While the pump enhancements mirror more expensive counterparts, Ampco remains committed to providing advancements at economical prices.
AC/AC+ Series Centrifugal Pump Features
316 Stainless Steel Construction
304 Stainless Steel Adapters are Standard
AC+ Shaft Design Adds Value and Durability
Ease of Assembly and Maintenance
Tri-Clamp Connections
AC/AC+ Series Centrifugal Pump Advantages
AC/AC+ Parts are 100% Interchangeable with Competing Brands
AC+ has a Unique Shaft Design Comparable to Competitor's More Expensive Models
316L Stainless Steel Construction and Stainless Steel Adapters are Standard
Optional NPT or Flange Connections
Low Cost
One week Standard Delivery
Fill in the contact form and our service team will take care of your request!