MDC MERCURY PROBES are precision instruments that enable rapid, convenient, and non-destructive measurements of semiconductor samples by probing wafers with mercury to form contacts of well-defined area.
---
MDC MERCURY PROBES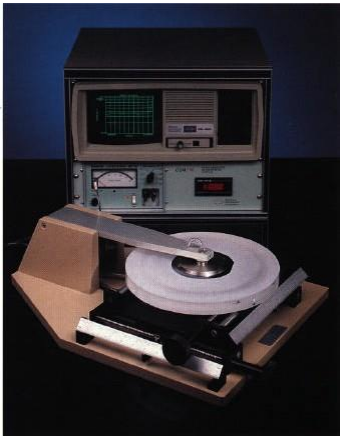 ---
MDC MERCURY PROBES GENERAL DESCRIPTION
MDC MERCURY PROBES may be connected to C -V plotters, computerized semiconductor measurement systems, curve tracers, or doping profilers for a variety of measurements. MERCURY PROBES eliminate time consuming metallization and their convenience make them ideal tools for production process monitoring applications. Their accuracy and reproducibility make them attractive for R&D applications.
MDC THREE FUNCTION MERCURY PROBES contact semiconductor wafers with concentric dot and ring mercury electrodes as well as a backside contact. This contact arrangement greatly increases the versatility of this process monitoring tool by bringing mercury probe technology to new measurement applications.
MERCURY PROBE FEATURES:
• Three operating modes:
1. Front-Back Contact,
2. Dual Front Contact, and
3. Front-Back Contact with guard ring.
• Little or no sample preparation required.
• Use with semiconductors and insulators.
• Single control arm operation.
• Unique purge control insures that clean mercury always contacts the wafer.
• Safe to use because of a novel fail-safe mercury delivery system that is vacuum actuated. No mercury is drawn out of the probe unless a wafer is in place.
• Sturdy construction features a heavy cast aluminum base for years of rugged service.
• Comes complete with vacuum pump, cables, control box with vacuum regulator, and a comprehensive operator's manual.
• Available with sturdy aluminum enclosure for light sensitive measurements.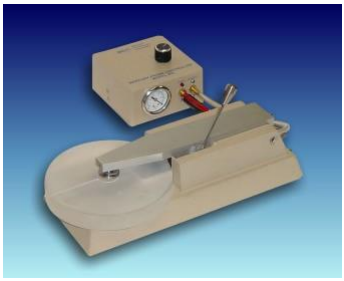 HOW MDC MERCURY PROBES CAN HELP YOU WITH YOUR SEMICONDUCTOR MEASUREMENTS
MDC MERCURY PROBES may be used with bare semiconductor wafers or insulators for a wide variety of measurements.
Oxidized samples: Mercury acts as the gate contact to form a Mercury-Oxide-Silicon MOS device for room temperature C- V plots or I- V tests. With the proper instrumentation, these plots may then be analyzed for many oxide and substrate parameters such as permittivity, flatband voltage, threshold voltage, interface trap density, substrate doping, oxide integrity, and low -dose ion implant doping profiles.
Finding minority carrier lifetime using the C- T technique and Zerbst plot is easy. The MERCURY PROBE will not cause the radiation damage that is so often a problem with electron beam metallizations.
MDC THREE FUNCTION MERCURY PROBES can employ both mercury electrodes for top surface probing only. This eliminates any backside contact problems on regular MOS samples and allows measurements of SOS structures and other samples with high resistivity substrates.
In an application unique for any mercury probe, the THREE FUNCTION MERCURY PROBE can make MOS measurements with all three contacts. The ring contact acts as a guard ring. This contact arrangement facilitates minority carrier lifetime measurements by reducing inversion layer spreading. The guard ring may also be employed to form a deep depletion MOS structure.
Semiconductors: On bare semiconductors, mercury forms a Schottky barrier that makes possible C- V measurements and doping profile analysis. This application is invaluable for incoming wafer inspection and process control of ion implants, epitaxy and diffusions. THREE FUNCTION MERCURY PROBES enable these measurements on semi  insulating substrates and epitaxy on substrates of opposite doping type. Guard ring structures can also be formed with the THREE FUNCTION MERCURY PROBE.
MERCURY PROBES SPECIFICATIONS
SIZE: 6″ W x 13″ D x 7″ H (15 cm W x 33 cm D x 18 cm H).
DOT CONTACT DIAMETER: Nominally .030″ (760 micrometers).
Other sizes available.
REPEATABILITY OF CONTACT AREA: 1.1 %.
AREA RATIO : RING CONTACT : DOT CONTACT : : 48.6 : 1.
CONTACT SPACING: Nominally .015″ (400 micrometers).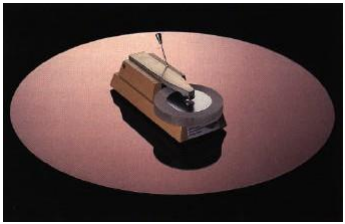 MODELS AVAILABLE
The THREE FUNCTION MERCURY PROBE is available in three basic versions:
1. Model 802-150, with 6″ (150 mm) diameter measurement platform. This model is useful for small wafers. The Model 802 can accommodate wafers up to 6″ (150 mm) in diameter.
2. Model 802-200 with 8″ (200 mm) diameter measurement platform. This model can accommodate wafers up to 8″ (200 mm) in diameter.
3. Model 862 MAPPING MERCURY PROBE with platform diameter of 8″ (200 mm) or larger. This model can accommodate wafers up to 8″ (200 mm) in diameter. In addition, the Model 862 probe holds the wafer on a XY table and facilitates repeatable translations of the wafer for mapping purposes.
Custom versions are available.
INSTRUMENTATION
CSM/Win Systems from MDC are ideal instruments to make the most of your mercury probe measurements. CSM/Win Systems contain extensive software to perform a variety of tests on semiconductors and MOS devices. In addition, special mercury probe software facilitates mercury probe calibration. Automatic determination of stray capacitance and contact area is computer controlled.
MDC CSM/Win Systems are available with a wide variety of voltage ranges and capacitance measurements capabilities. Systems performing single frequency, multiple frequency and quasistatic measurements are available. MDC also offers the most complete selection of single and multiple hot chuck systems for your other measurement requirements.