The modular, versatile single wafer system for etching, cleaning, lift-off, coating and developing.

---
Cleaning system for various cleaning and drying applications
---
BENEFITS
> Cleaning system for various cleaning and drying application
> Different configuration (table top, stand alone or double stack)
> Designed for substrates up to 200 mm
> Space saving, movable footprint
> Superior reliability
> Unique modular construction
> Extremely maintenance-friendly
> Easy to use and operate
RinseStep, a compact and durable cleaning tool, that is available as manual or fully automated system. It excels wherever flexibility and variable process requirements are needed. Thanks to the stability and user-sim-plicity this system is an enriching addition to any fab. RinseStep is capable of handling different wafer sizes.
Carefully engineered software solutions provide operators with the best control possible. RinseStep is the choice of industry partners everywhere where reproducibility, stability and user ease are critical to profitability. In its standard configuration, RinseStep is capable of running all of the common substrate cleaning and drying processes.
FEATURES & BENEFITS
Application
For cleaning after many different processes
General Features
> RinseStep maxi for wafers up to 200 mm
> Processes single 25-wafer batches
> Standard high or low profile cassette
> The optionally build-in resistivity sensor controls the wafer cleaning process
> Cold or hot nitrogen assist the wafers drying process
> The spinning rotor is very easy changeable
Graphical User Interface
> Based on PLC with 5,7″ color touchpanel
> Recipe editor for up to 10 recipes with 10 steps
> Multi-tiered password levels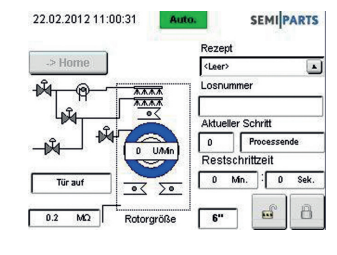 General Installation data
Dimensions: depending of configuration (L x D x H)
Nom. Voltage: 230 VAC
Rated frequency: 50 Hz / 60 Hz
Nominal current: 1 x 16 A (etc.)
Available training
Operation, maintenance and process
Available options
> Chamber ionization
> DI-Water reclaim
> Resistivity monitoring
> Ready for robot loading
> Available as table top, stand alone or double stack
> SECS /GEM
> DI-water heating system
> Available also in stainless steel
> Fire suppression system for solvent applications
> special carriers