Limited automation – unlimited process capability.

---
WetProcess Manual Limited automation – unlimited process capability

---
BENEFITS
> Modular design
> Customizable, extensible and adjustable to customer specific
requirements
> Its modular construction allows easy installation
> Optimized footprint
> Tool housing can be retrofitted as fume hood
> Tool housing in different materials available
SEMI | PARTS with its manual wet bench has realized a tool platform that is cost-effective and at the same time provides a high level of process capabilities and flexibility. The credo is that a limitation in automation should not strip you off the benefits of a high-end software and process control features.
Available as classic MANUAL WETPROCESSOR or as fume hood
APPLICATIONS
The capability of the wet bench allows standard processes like SC1, SC2, HF (in all its concentrations), HF, DSP, KOH and many more. Substrate sizes can be adapted up to 300 mm. Even solvent processes can be realized in a stainless steel version with a maximum safety for the user. Additionally, it is of course possible to realize customized processes guided by the experienced SEMI | PARTS process team. The unit is available in cost-effective PP as well as in FM 4910 compatible material.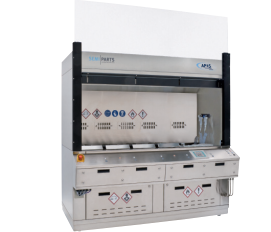 Standard available options
Recirculation capability
Ultrasonic: 730 KHz, 1000 KHz, other frequencies possible
Ultrasonic: Process adjustable power possible
1 W incrementation
Rinse tank: Final rinse, Quick dump, Overflow option
Customized for your application
Optimized for your requirements
Option examples
> DI/N2 spray gun
> Wafer rotation
> Hot plates
> Spin coater
> Buffer tanks
> Premix tanks
> Concentration monitoring
> RinseStep Drying
> Handling system as walking beam
> Explosion proof