Fully automated compact and durable wet processing tool Excellent for flexibility and variable process requirements. Designed for up to 8″ wafers.

---
Wet process system for various applications, including cleaning, etching, stripping and developing
---
Benefits
> Wet process system for various applications, including
cleaning, etching, stripping and developing
> Optimized footprint
> Superior reliability
> Unique modular construction
> Extremely maintenance-friendly
Low cost of ownership
> Maximum application versatility
> Separate exhaust on the modules
> Easy installation/upgrade of additional modules based
on a modular robot system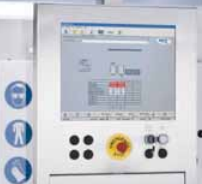 Features & Benefits
Application of different processes MultiStepTM & GigaStepTM
Many different cleans, such as RCA, IMEC, Pre-Diffusion, Pre-Metal, etc.
Various etch processes, including oxide, nitride, poly crystalline, metals and silicides
General features MultiStepTM
> Designed for substrates up to 200 mm
> Processes single 25-wafer batches of 200 mm wafers as well as double 25-wafer batches
of 100 to 150 mm wafers
General features GigaStepTM
> Designed for substrates up to 300 mm
> Processes 50-wafer batches of 300 mm
> Can also process 50 or 2 x 25-wafer batches of 150 or 200 mm wafers or masks
General features MultiStepTM & GigaStepTM
> Standard high or low profile cassette
> Modular exhaust systems for effective extraction of acid, lye, pH-neutral and solvent
produced fumes
> Dry-in-dry-out processing
> Intelligent wafer rescue and emergency actions
> Robust, simplified scheduler
Process control capabilities
> Lot tracking throughout the entire process
> Parameter tracking, including temperature, flow, resistivity, chemical dosing, etc.
> End of run filer, error files, chemistry log, user log
Graphical user interface
> Based on B&R CPU and IPC
Windows based 17-inch touch screen
> Recipe editor
> Real time digital flowcharts
> Automatic generation of diagnostic files
(EOR, ERR, ChemLog, etc.)
> Multi-tiered password levels
> Remote control via internet
Available Training
Operator, maintenance and process
Built To Comply With
FM 4910
SEMI S2 and S8
SECS/GEM
CE
Available Options
> Automated loading station wafer transfer
> Wafer ID reader
> Cassette buffer
> Dry-in-wet-out and wet-in-dry-out process capable (manual loading station Ozone system (DI-water or sulfuric acid)
> SMIF (150, 200 or 300 mm)
> Wastewater management system
> Locally installed chemical cabinets for the dilution, mixing and preheating of chemical solutions
> DI-water heating system
> Mini-environments
> Concentrate monitoring system
> POU filtration of DI-water
> Fire suppression system for solvent applications
> UPS units
> etc.
Reliability (figures based on actual tool performance)
MTBF ≥ 800 h
MTBA ≥ 300 h
Uptime ≥ 97 %
Can be delivered fully assembled