Chillers for temperature range 0°C – 60°C (adapted SMC chillers)

amh-012 /amh-024 / amh-024-ac

Temperature range: 5 – 60 °C (amh-012: 5 – 40 °C standard)

(Air cooled (ac) or water cooled (wc) version)

Proven SMC chiller adapted to replace of LAM rainbow
platform chillers

amh-030 / amh-030-ac


Temperature range: 5 – 60 °C

For the replacement of

amh-032


Temperature range: 0 – 40 °C

For the replacement of

This is the model of your choice if a lower temperature range between 0° C and 40 °C is required

amh-050 / amh-060


Temperature range:5 – 60 °C

Proven water cooled SMC chillers adapted (equipped with proprietary interface boxes) to replace AMAT Centura Chillers
amh-024 / amh-024-ac
For cooling of electrodes, electrostatic chucks, ozone generators in the temperature range 0°C – 40°C
Special, already qualified chillers for LAM equipment
Equipped with a LAM Rainbow platform compatible interface box
Different models available
e.g.:
| | | | | |
| --- | --- | --- | --- | --- |
| Model | Max. bar | Cooling | W@T° | Interface |
| amh-024 | 2 | Water | 2600W@40°C | LAM Dual Loop |
| amh-024-ac | 2 | Air | 2600W@40°C | LAM Dual Loop |
Other interface configurations possible
amh-050 / amh-060
For cooling of electrodes, electro static chucks, ozon generators in the temperature range 4°C – 60°C
Special, already qualified chillers for AMAT Centura equipment
Special features like conductivity measurement possible
Customer specific fluid couplings
Optional tray for placing of external DI water cartridge
Control touch screen on top cover
– for selection of local or remote mode,
– for adjustment of actual & target temperature
– with password entry
– for selection of different parameters
– with display of warning and alarm
-> personalized devices for our customers due to selectable special equipment
Technical Data amh Chillers (Click on the image to see a larger version)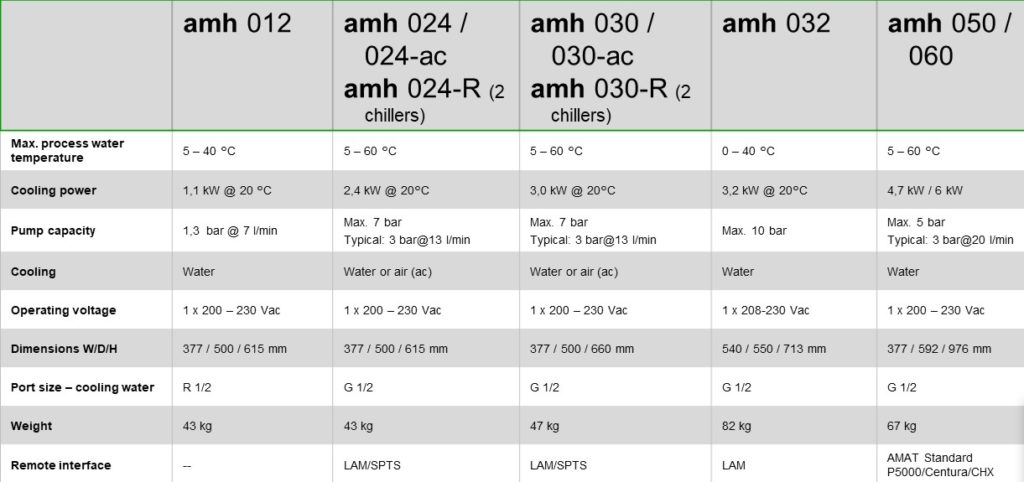 A more detailed presentation of our chillers
amcoss chillers substitute traditional, costly, or even no longer accessible Chillers as e.g. LAM TCU, Beta Tech, as well as HX150/HX300 and so on.
amcoss conceives, customizes and delivers chillers by following the client specifications and demands. Considering custom interfaces, which amcoss designs and installs, the machines are prepared for instant "Plug-and-Play" operation and connection with the client's infrastructure. The customer gets personalized devices adapted to his individual process specifications, excluding the need of conceiving his own adapted solution and increasing cost-effectiveness. High cost-performance ratio of amcoss appliances is quickly achievable, that's why these water cooled and air cooled chillers are considered to be even more cost-efficient than OEM chillers.
Great design, enhanced lifetime
amcoss amh water and air cooled chillers are strong, durable and efficient, being the perfect solution for sustainable operations. High quality parts, solid construction and helpful features enhance endurance of amcoss air and water cooled chillers, minimize maintenance interventions and allow performing reliable activities.
Fitted to substitute temperature control units created for individual processing equipment which is no longer manufactured and serviced by OEM, the amh devices actually prolong the lifetime of this equipment.
Low energy consumption level and the "Plug-and-Play" feature provide an excellent solution for various processes and operations.
Advantages of amh chillers explained
Plug and Play function
amcoss  chillers represent for the customer a ready-to-use solution: it excludes the time and resources spent for adjusting the device to his infrastructure. The chiller can be connected and operated instantly.
Custom made controller
The conventional interface is being switched to a customized controller which is wired to a monitoring touch screen of the chiller:
switching between local and remote modes

choosing of current and desired temperature

password protected login

setting up various parameters

displaying warning notifications and alarms
Multiple interfaces and connectors
The amcoss chillers are compatible with remote interfaces such as AMAT 5000 analog, CHX (RS485) as well as LAM TCU and may be combined with various connectors such as SUB-D 15 Pin, SUB-D 9 Pin, BEAU, etc. Also the client can select among many fluid couplings for liquid media as, e.g. Parker stainless steel express couplings with bypass or magnetic valve, Swagelok, etc. The chiller becomes a very customer-specific and user-friendly device, providing more adjustability and various usage.
Customized components
The client is allowed to select multiple options in order to set up the appliance with exclusive components. The control of conductivity or the measurement of resistivity are possible options. The resistivity sensor regulates the resistivity of the cooling medium and  also monitors its deionization. When resistivity drops below a threshold value set by the customer the medium is being run over a deionization cartridge.. Once the threshold value has been reached again, the deionization process will automatically end. Resistivity indicators are supervised by the controller and displayed on the screen. Benefits: resistivity of the cooling environment remains stable and safe, as well as the entire process. The deionization cartridge serves longer because it is not being continuously used. As a result, the operational spendings will be minimized.
Numerous temperature ranges
We propose a variety of models of amh chillers for three distinct temperature ranges. That's why the best applicable appliance for the client's preferred operating temperatures may be personally selected. The chiller will generate neither too much, nor not enough cooling capacity.
Specials dual loop substitution
The amh 024-R or 030-R amcoss represent a chilling unit solution to substitute LAM dual loop temperature supervision unit TCU2080. The specifically created rack can hold two amh chillers on two different levels and is supplied with a proprietary controller. The chillers are plugged into the needed connectors incorporated within the rack and also coupled to the processing equipment to be managed.
Fill in the contact form and our service team will take care of your request!