Heat exchangers for temperature range 30°C – 95°C

amh-080

Equipped with proprietary interface boxes for replacement of

AMAT 0 & 1 Heat Exchangers

amh-090

Equipped with proprietary interface boxes for replacement of

amh-090-S

Compatible with Mattson Helios III & TEL MB Square

-High-performance Grundfos pump with minimal maintenance (7 bar, 150 l/min)
-Pumps & pipes in stainless steel
-Internal DI water cartridge for resistivity regulation and lifetime extension
-Resistivity sensor for cooling-medium
-LCD Display on the front side displaying the resistivity value up to 20 MΩ
-Remote interface -> Customized
-Leakage sensor
-Level indicator tube
-Plug & Play -> no adaptations necessary, can be connected and operated immediately
amh Heat Exchangers – Robust
For a long lifetime and low maintenance cost due to
resistivity sensor & control resistivity-based regulation (on/off) of deionization
balanced size of heating rod surface resulting in lower stress for heater and fluid as well as increased heating capacity
pumps & pipes in stainless steel
very robust hiqh quality pump
robust construction – German quality product
amh Heat Exchangers – Flexible
Replacement for OEM Heat Exchangers
Multiple control modes local, semi-remote, full-remote
Supporting different remote interfaces AMAT 5000 Analog, Digital IO, CHX, RS-485,…
Supporting different connector types for liquid media Parker, Swagelok,…
Customer determines number of connectors for media in- and outlet
Plug & Play no adaptations necessary, can be connected and operated immediately
Operating voltage 208V/50Hz, 400V/50Hz
amh Heat Exchangers – Cost efficient
Sophisticated product features reduce costs noticeably
Low initial costs outstanding price-performance ratio
Low operating costs
– Minimized heat loss owing to heat insulated tanks and piping system
– Up to 10 times longer lifetime of DI-water cartridge due to resistivity-based regulation
Low maintenance costs
– Top quality components
– 2 years warranty
– Clear layout of components & easy to access
-> service by own maintenance personnel possible
Technical Data amh Heat Exchangers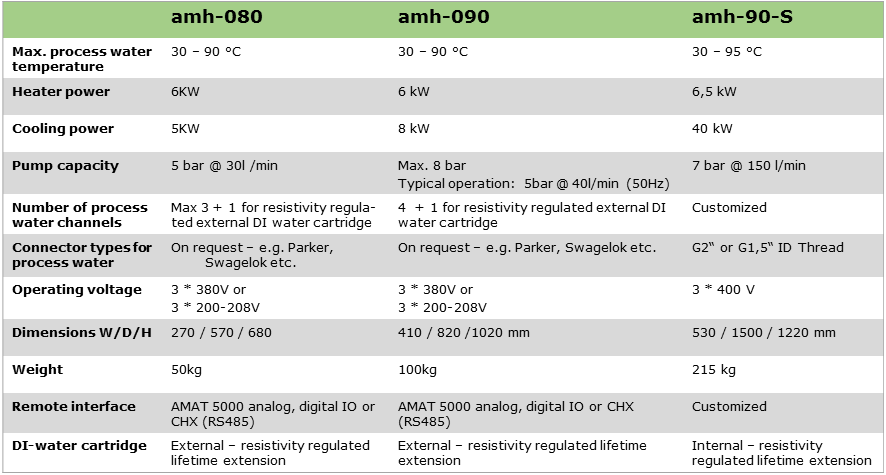 A more detailed presentation of our heat exchangers
amcoss heating control units are a great solution to replace conventional, expensive, and even no longer available Heat Exchangers as e.g. AMAT 0 & 1, Neslab Steelhead and Endura and others.
amcoss heat exchangers configures and fits them according to clients' demands. Due to adaptable and personalized interfaces, which amcoss prepares and builds in (substituting standard interfaces) the appliances are immediately available for "Plug-and-Play" operation at client's equipment. That's why the client will access custom devices configured for their own operation requirements and will not have to look for and implement solutions on his own. This also facilitates his sourcing activities and enhances cost-effectiveness.
Powerful design, long lifetime
amcoss amh heat control units are solid, stable and efficient – aspects that are quite necessary nowadays for sustainable activities. The usage of quality elements and pieces, a simple, solid construction and helpful functionalities as, e.g. the resistivity sensor, do expand the lifetime of amcoss appliances, minimize maintenance requirements and guarantee stable operations.
Because the heat exchanger devices are configured to replace heat control units specially conceived for certain processing machinery which, nowadays is no longer offered or assisted by the OEM, the amh appliances can actually increase the timing of using these machinery (AMAT, Neslab Steelhead, Endura, Hellios, MB Square, etc.).
Reduced energy consumption and "Plug-and-Play" advantages guarantee a great efficiency of processes and costs.
Benefits of amh heat exchangers explained
Plug and Play option
amcoss Heat Exchangers represent for the clients ready-to-use devices. There is no need for adjustments and customizations to operate the existing equipment. The amh appliance can be inserted into the equipment string and operated promptly, reducing time and saving clients' investments.
Solid and powerful
The long lifetime of amh heat exchangers is a consequence of its robust design. The whole piping structure is made from stainless steel, as well as the powerful high-quality pump. This also allows minimum service requirements. The size of the heat exchangers is configured to fit the dimensions of the heating rod surface. That's why there is less strain on the heater and the fluid, which increases the heating capacity of the component as well as its endurance.
Various operational modes and displays
Allowed operation modes: local, CHX, interface, DIO

Multiple displays: system pressure, t° (0,1°C accuracy), resistivity of process water, and so on

3-step microprocessor controller with t° management and automatic enhancement
Resistivity sensor and control
amcoss heat exchangers are fitted with a resistivity sensor. This sensor manages the resistivity of the cooling medium and controls its deionization. Once resistivity falls below a threshold value fixed by the customer, the medium is being run over a deionization cartridge. As soon as the threshold value has been reached once again, deionization automatically ends.
Benefits: resistivity of the cooling medium remains invariable and so does the entire process. The deionization cartridge has a longer endurance as it is not being permanently used. That's why it reduces maintenance costs.
Multiple interfaces and connectors
amcoss heat exchangers are compatible with several remote interfaces such as Digital IO, CHX (RS-485), and so on, and may be equipped with many connector types. Also the client may individually select among various couplings (Parker, Swagelok, etc.) for liquid media. The number of connectors for in- and outlets is confirmed by the customer. In consequence the appliance is built to be very customer – specific, providing more flexibility and compatibility with various applications.
Cost-cutting functionalities
Reduced operational costs




amh´s solid pump is very efficient and energy-saving. All tanks and pipings are heat coated, which reduces heat loss through radiation. Endurance of the deionization cartridge is enhanced, because it is only being launched by the resistivity sensor which manages the cooling medium, if needed.

Reduced maintenance costs




amcoss heat control units are built by using only high-quality parts. A two-year warranty is offered. Structured layout of the pieces within the unit and fast accessibility allow easy maintenance operations to be accomplished by the operation assisting personnel.

Reduced acquisition costs
The great price-performance ratio led amcoss heat exchangers to acquire an important competitive advantage over similar devices on the market of heat exchangers..
Fill in the contact form and our service team will take care of your request!