The CMT SR2000 is a completely automated, mapping four point measuring system. It offers precise and fiable mapping measurements of resistivity and sheet resistance.
---
CMT SR – 2000 N or PV Mapping
Sheet Resistance and Resistivity Measurement
System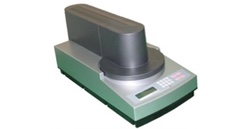 1.
2.
1.The SR2000N version
2.The SR2000PV version
---
The unit exists in two versions. N version allows the measurement of round wafers
up to 8''. The PV version, specifically designed for the photovoltaic industry, allows
the measurement of square wafers 156x156mm and round wafers up to 230mm
diameter.
The SR2000 comprises a current source with output 10nA to 100mA, DVM 0V to
2000mV and an accuracy of 0.2% (KRISS Circuits). The measurement accuracy is
+/-0.5% (on VLSI standard wafer at 23C). The measured range goes from
1mOhm/sq to 2MOhm/sq (10uOhm*cm to 200kOhm*cm).
The JANDEL Probe Head, one of which is provided with the MultiHeight Station, can
be completely customized following the user's needs (tip radius, spacing, tips
arrangement and load).
Technical characteristics:
| | |
| --- | --- |
| Sheet resistance measurement | |
| – Measuring method | Contact, 4 point probe |
| – Measuring range | 1 mohm/sq ÷ 2 Mohm/sq |
| Resistivity measurement | |
| – Measuring method : | Contact, 4 point probe (Input thickness) |
| – Measuring range : | 10.0 µohm·cm ÷ 200.0 Kohm·cm |
| Current Source | 10nA to 100mA |
| | DVM 0V to 2,000mV |
| | Accuracy: 0.2 % (KRISS Circuits) |
| Measurement Accuracy | ± 0.5 % (VLSI Standard Wafer, @ 23°C) |
| Operating Software | – Measurement condition creation. |
| | – Wafer type, measure point interval, etc. |
| | – Save & load: data, wafer type, measure |
| | point, etc. |
| | – Data analysis: 2D, 3D mapping, Data map, |
| | etc. |
| | – On/Off: Remote, Vacuum. |
| | – Data & mapping printout. |
| Measurement Mode (SW) | -Auto measurement (mapping via software). |
| | -Quick measurement: ASTM & SEMI Mode. |
| | -Point measurement: by mouse-click. |
| Wafer Size | -N Version: round wafers, 8'' maximum |
| | diameter |
| | -PV Version: round or square wafers, |
| | 156×156 mm maximum size. |
| | All versions, maximum thickness 6 mm. |
Some examples of mapping measurements: